With the wet and dark days this time of year, most of us spend more hours indoors which makes it a good time to think about bringing in plants to assist with our sense of well-being.
For an easy splash of colour, a bunch of tulips or a spring planter can do wonders to lift our spirits and brighten our home. However, to take it a step further, there are numerous choices when it comes to adding plants that will actually purify indoor air of airborne toxins. Most of the ones listed below are predominantly green all year round, but the last two will do double duty by detoxifying the air, as well as adding hits of bright colour to your home.
Palm trees including Areca Palm, Lady Palm and Parlor Palm
Boston Fern
Spider Plant
Weeping Fig
English Ivy
Golden Pothos
Snake Plant
Dragon Tree
Peace Lily
Gerbera Daisy (potted)
Chrysanthemum (potted)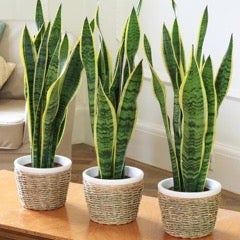 Snake Plant
Gerbera Daisy
Your local nursery can help you determine which plants might be the best fit for your home or office, depending on the light conditions and care required. Most of the plants listed here are very easy to grow, even if you don't have a green thumb.